Starting in Q3 2015 VRset will be publishing Fashion Photography galleries and news in Los Angeles & Orange County by LA & OC Fashion photographer David Victory
With so many fashion apparel companies and designers in LA & OC it is hard not to shoot fashion photography in both metro areas. Often clients are start-ups or want to introduce a new fashion line to Southern California and the world, some are old friends who dominate certain sectors of the fashion district in downtown LA.
Fashion Photographer Los Angeles Orange County are plentiful, yet few produce artistic YouTube fashion videos like David Victory, a top LA & OC Fashion Photographer and International media producer at VRset. "With instagram 15 second videos you can communicate so many more words than just a 1000″ says David who switches from still photos to HD videos with a flick of the dial on his latest Canon DSLR on the set of Baci Lingerie.
And the reverse is happening with high end cinema cameras such as RED Scarlet where directors of photography shoot with 6K cinema cameras for fashion magazine covers and pick the perfect frame among the 12-100 per second generated by these cameras. David says "it is the perfect time to be one of high demand Fashion Photographers in LA & OC who shoots stills and videos, because of the convergence of these two mediums I have a lot of artistic creativity" as he clicks the shutter and rolls another 15 massive RAW frames through his endless digital film card on set of Lorna Jane Active Wear.
When David was shooting with his 70mm Hasselblad film camera before joining VRset, every setup and every shot was calculated, with an assistant carefully loading and unloading magazines and marking the rolls for development at the A&I lab in Hollywood the next business day. But now shooting 2000+ 24 megapixel frames is typical for a fashion photo shoot and he does not need so many assistants tending to the camera operation either, "
In fact I immensely enjoy going on the Hunt as a fashion photographer, shooting the unknown and coming back with images neither I or the designer planned or envisioned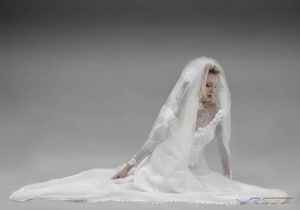 fashion-photographer-los-angeles-orange-county-model-wedding-gown-sitting-white-studio
…says David on a recent fashion photo shoot on the beach in Venice California. All of the technological wonders and shrinking timelines has created great opportunities for fashion designers and marketers not to mention dropping the cost of producing fashion media campaigns, while increasing great artistic and visual output for garment companies and fashion brands in Los Angeles & Orange County.
The fusion of visual technologies for Fashion Photographers production, as well as post-production software such as Capture One and Lightroom have leveled the playing field for the fashion world players, large and small. From the titans of couture to the lone t-shirt blogger on instagram, anyone who can fill the screen of an ipad with the best Fashion Photographer imagination is the winner, and for the foreseeable future there are no losers in the game of Fashion Photographer Los Angeles Orange County